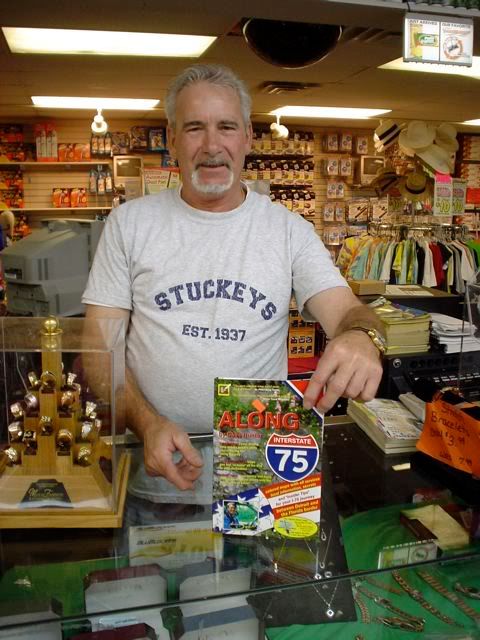 This is Victor and he has worked at the As Seen On TV Outlet™ off I-75, exit 141 in Campbell County, Tennessee ever since it opened four years ago. The outlet store, which is connected to a Stuckey's gas station, is a popular stop for highway motorist on their way to and from Gatlinburg, Tennessee. Victor says the most unique thing about working at As Seen On TV™ is the people that come through the door. "You see them one time and then you never see them again", Victor smiles. Once Dave Hunter, author of the guidebook 'Along Interstate 75' that is sold in the store, came in and autographed a copy of his book for Victor.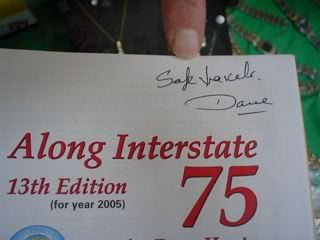 (Autographed Copy of the book 'Along Interstate 75')
Victor has seen the infomercials for all of the products sold in the store. "Most customers already know what they are looking for when they walk through the doorway", he says. Mimicking a customer, "I saw the Magic Bullet™… or I saw Showtime Rotisserie™.... can I get it here?" The most popular items at the store are George Foreman Products™, Miracle Blade Knives™, Quick Chops™, Showtime Rotisseries™, and The Original Chocolate Factory™. In addition the Marshmallow Blow Gun™, which simply allows you to blow and shoot marshmallows, was the number one college kid toy in 2004. He says the most ridiculous inventions in the store are the new improved remote control Fart Machines™ and Tee Time™ on a toilet that allows participants to 'play golf while they go'.
(My friend Peter holding a Marshmallow Blow Gun™)
Victor owns more than his fair share of the products he sells. His favorite items for using at home are the Miracle Blade Knives™ and the flexible cutting mats that lay on your kitchen counter for protection.
If you ever drive along interstate I-75 in Tennessee stop and say hello to Victor. He is there almost everyday. As an exit marker look for the gigantic 100 ft white cross that stands directly in front of Adult World, a huge adult video and arcade store off the highway.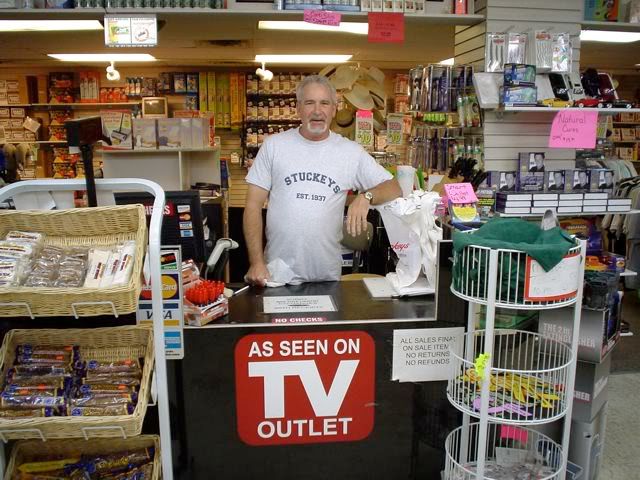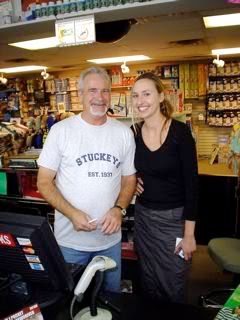 Victor was excited to meet a new stranger
ADS FOR THE MOST POPULAR ITEMS SOLD BY AS SEEN ON TV™
Showtime Rotisserie™
Fresh healthy food has never been easier to prepare. Our new Showtime Compact Rotisserie & BBQ Oven features a 3 hour automatic timer so you can spend less time cooking and have more time for your active lifestyle.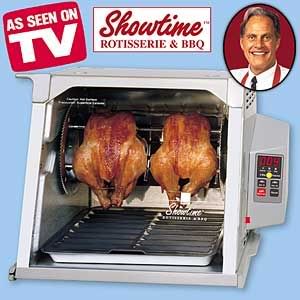 The Original Chocolate Factory™
Turn Ordinary Desserts Into Extraordinary! Is your dessert so boring, it's left your family snoring? Not any more. Introducing The Chocolate Factory. The fun, easy way to turn ordinary desserts into extraordinary! Just place in store-bought chocolate, select your favorite treat, then simply dip it, dunk it, fill it or pour it. Regular pots can burn chocolate, but chocolate factory's double boiler is two pans in one. The bottom heats water while the top quickly melts chocolate into a smooth and creamy sensation. You will receive a Dipping Spoon which is perfect for nuts, candies or strawberries. You'll also receive the Dipping Fork which is ideal for pretzels, bananas, or macaroons. And the kids will love the designer molds. Snowmen during the holidays; dark chocolate flowers for a bridal shower; American flags for the 4th of July. Even Teddy Bears and fancy Seashells.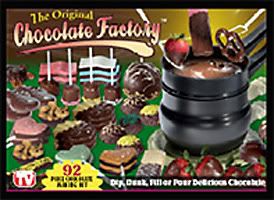 Quick Chops™
Quick Chop is the fast and easy way to Quick Chop, mince, slice and dice with just a tap. Simply place your favorite vegetables under the Quick Chop, give it a tap, and shred cabbage for coleslaw, chop celery and carrots for stir-fry, and slice potatoes for homemade fries. When you tap down on the Quick Chop, six carbon steel blades slice your food perfectly then the blades retract and rotate so on the next tap the blades chop a different area. Tap the Quick Chop twice for onions to top your burger, one more tap for easy diced onions. And add another tap to enjoy finely minced onions…with no tears! Quick chop is faster than a knife, easier than a food processor and strong enough to crush ice.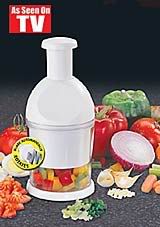 Victor's favorite cutting mats
Standing outside the store