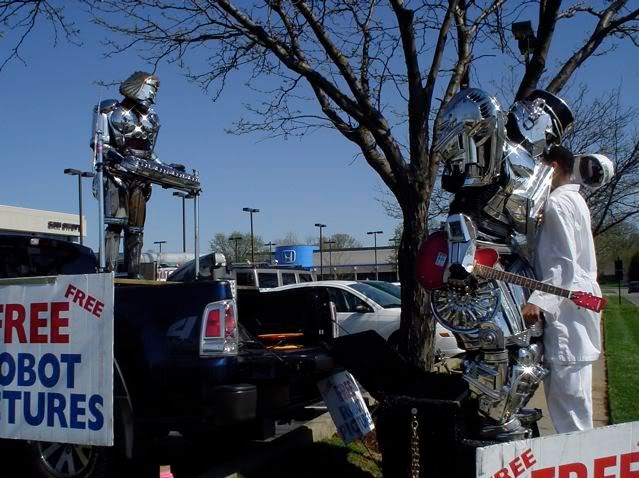 Meet the Showbots, a group of human robot super-heroes who travel around the south keeping kids in school, off the street and away from drugs. Showbots, also known as Cop-rots when working with the police and Swopebots, when they advertise for the Sam Swope Car Dealership in Kentucky started as a concept of Clay W., a Jehovah Witness from Chicago whose fascination with superheros became his inspiration to help the community. With his own two hands, Clay cast and molded custom plastic robot attire built with detailed electronic devices that allow the robot to light up and make noise by remote control. The end result was a flexible light weight suit that provided Clay with the superhero powers needed to get the kids attention. "When a person talks to a child, they will hear it but they won't get it. When a character or a musician says it, they will listen every time."
Showbots are musically talented and often perform with robot guitars, keyboards and drums. They visit schools and offer different programs through the police department, traveling to eleven different cities throughout the South in a vinyl wrapped promotional car and trailer. They often set up stage in the back of a pick-up truck and a stage inventor, played by Clay's cousin, gives the robots orders and takes free Polaroid's of the kids as souvenirs. "We give the kids pictures to remember us and try to get in their heads.... We do musicals to get their attention and make them stand up and repeat after the robots things such as 'stay in school, say no to drugs' and give them pamphlets of important information to take home." People have been receptive to the Showbots, who have performed in Disneyland, toured with rock groups and contributed to several other stage shows. The best experience has been working with the children who have cancer through the Ronald McDonald House. "You know that these children do not have long to live," Clay admits, "but you know the one thing we can provide is a good positive life." 
In order to meet financial needs, the Showbots have been contracted through Sam Swope to serve as a promotional form of entertainment. For Clay and the Showbots, this is their full-time gig. Performing a few years ago at the Louisville Auto Show, the Showbots were a success and ever since have become regular performers for Sam Swope, providing entertainment at their festival events and on site at their dealerships around town. Recently, the Showbots have become television icons in the Sam Swope's 'good credit, bad credit' commercials. 
As a Jehovah Witness, Clay feels somewhat limited as a Showbot on what he can do. For example, he cannot perform at birthday parties. But he strongly believes that he and the Showbots have to live what they preach. "You can't tell kids not do something when you're doing it. I see a lot of people doing that. They will say something and then totally do the opposite. You have to be what you say you are. That is the one of the main things that kept me going. We are living what we teach." He believes that the way to save people and gain technique is to learn more about God. True to his superhero nature, Clay does not allow anyone except his family to take pictures of him without his costume. It is very important to him that a superhero does not lose his real identity.
 A word from Ron Overstreet, Sales Manager at Sam Swope Mitsubishi in the Hurstbourne Auto Center: (Ron also starts in all of the commercial with the Swopebots.) 
Stop by and see the Swopebots perform Tuesdays at Sam Swope on Dixie Highway, Wednesdays at Sam Swope on Bardstown Road, the 'Just Trucks' location, and Thursdays at Sam Swope Hurstbourne. Get your picture taken with and by the Swopebots! Bring the kids! Fun for Everyone!
"Obviously, they will make your eye turn!"
Prepared for you by Laura